60KVA to 500KVA Three Phase UPS
We provide specialized UPS solutions 60kVA to 500KVA Three Phase online double conversion UPS with 415V as per QCS standards. available over a model range of 60 kW to 500 kW and can be configured to operate as a single, standalone UPS or as a multi-cabinet UPS system with up to ten UPS cabinets connected in parallel, achieving a total power capacity of up to 5 MW.
Compare
An online double conversion UPS, 60KVA to 500KVA Three Phase UPS delivers continuous power availability to network- critical infrastructures of both data centers and process control environments. Offering maximum power protection.
We supply the following capacity between 60KVA to 500KVA Three Phase UPS
60KVA UPS / 60KW UPS
80KVA UPS / 80KW UPS
100KVA UPS / 100KW UPS
120KVA UPS / 120KW UPS
160KVA UPS / 160KW UPS
200KVA UPS / 200KW UPS
250KVA UPS / 250KW UPS
300KVA UPS / 300KW UPS
400KVA UPS / 400KW UPS
500KVA UPS / 500KW UPS
Features
High reliability
• Online double conversion technology
• Parallelable systems for increased redundancy
• Extendable backup time
• Ripple-free and temperature controlled battery chargers extend battery life time performance
Compact size
• Small footprint offers saving on expensive floor space
• Cooling air exhaust through the top of the cabinet – no rear cabinet clearance is required
(only 60–120 kW and 400 to 500 kW units)
Low cost of Solution
• Up to 96% efficiency in double conversion across a wide load range
• Up to ≥99% efficiency in eco-mode
• Rated output power factor 1.0
• Near-unity input power factor at partial and full loads
Efficient service concept
• Front access for serviceability and maintenance
• User-friendly LCD
• Remote monitoring and connectivity options
Up to 10 units can be configured in parallel to provide up to five megawatts of UPS power or redundant backup. This scalability means the UPS system capacity can be sized to match the load requirements, with the possibility to add incremental capacity later, when power needs change. The resulting savings in power usage over the service life of
the UPS are substantial.
1.0 rated output power factor means that each and every Watt of power is real power that is available for use. This helps with optimizing the complete electrical infrastructure in terms of switchgear and cabling, both upstream and
downstream from the UPS.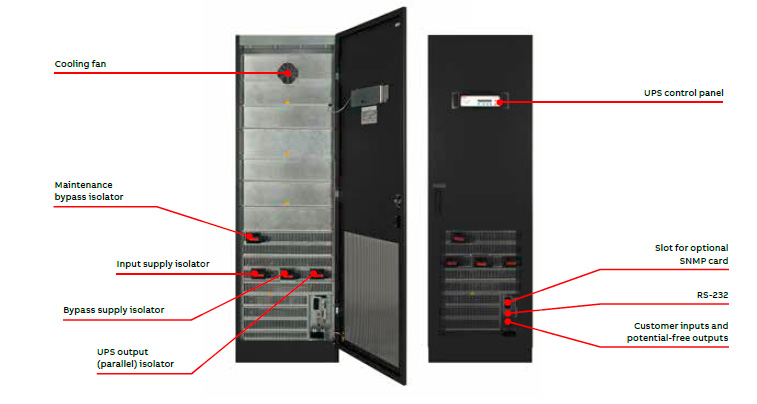 Click here t0 view 10KVA to 50KVA Three Phase UPS System
Click here to view 1 to 10KVA Single Phase UPS System.