Adjustable Power Supply
We supply following capacity of DC Power supply units in Qatar
0 ~ 30V 5A
0 ~ 30V 10A
0 ~ 30V 30A
0 ~ 60V 0 ~ 10A
Compare
With the Adjustable power supply the voltage and current can be pre-set as per the user requirements. The DC adjustable power supply unit has 4 windows with high precision display for Voltage, Current, power, equivalent resistance at same time. Auto protection for over voltage, over current, over power, and over temperature. The DC Adjustable Power supply unit enables Optional Sense compensation interface at back side of the unit, communication serial port RS232 at the rear and the device can be controlled via the preprogramed software.
We supply following capacity of DC Power supply units in Qatar
0 ~ 30V 5A
0 ~ 30V 10A
0 ~ 30V 30A
0 ~ 60V 0 ~ 10A
Specification
Rated DC output (0℃~ 40℃)
Voltage
0~60V
Current
0~10A
Voltage stability
≤2%
Current stability
≤0.5%
Load stability
≤0.5%
Ripple & noise
≤1%
Display resolution
Voltage resolution
<100V: 10mV ≥100V: 100mV
Current resolution
<100A: 10mA ≥100A: 100mA
Power resolution
<10W: 1mW ≥10W: 10mW
≥100W: 0.1W ≥1000W: 1W
Load equivalent resistance
Display resolution
<10R: 1mR ≥10R: 10mR
≥100R: 0.1R ≥1000R: 1R
Preset accuracy of voltage and current values
Preset precision of output voltage
0.1V
Output steady current preset accuracy
0.1A
Operating environment
Elevation
≤2000m
Relative humidity
<80%
Environment temperature
5℃~ 40℃
Storage environment
Environment temperature
-20~ 80℃
Relative humidity
≤80%
Power input
Input
AC220V±10%,50Hz (or AC110V input or AC100V/220V manual switch)
Tips: 110V input or 220V input can be fixed within 900W;110V is not supported for above 1000W
Size
Fuselage size
<2400W: 330(D)×250(W)×155(H)mm, ≥2400W: 410(D)×250(W)×155(H)mm
Package size
<2400W: 430(D)×330(W)×250(H)mm, ≥2400W: 520(D)×330(W)×250(H)mm
Weight
<2400W: About 5.5Kg , ≥2400W: About 8Kg
The High Frequency Adjustable Power Supply / Regulated Power Supply comes with 1 year standard warranty and 1 to 5 years extended warranty for all models of the DC power supply units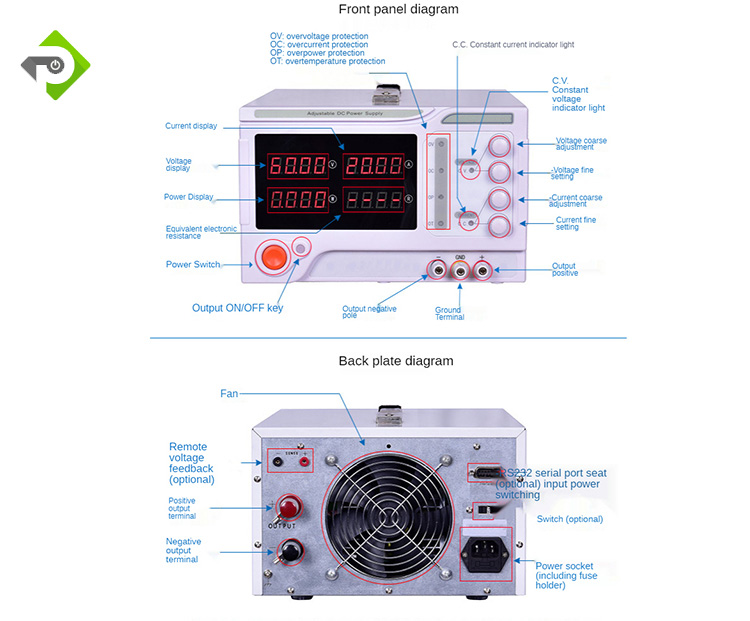 Click here to view our uninterrupted power supply.
Click here to view our Automatic Voltage Regulator / Stabilizer Single Phase / Three Phase