Three Phase Stabilizer
We Supply 3KVA 3 Phase Voltage Industrial Stabilizer to 3000KVA Stabilizer with 0.8, 0.9 and 1.0 Power Factor, 380/400/415 Input and Output Options. We supply and Install Static Stabilizer and Servo Stabilizers as per the industry requirements.
Compare
We are the leading three phase stabilizer manufacturer and three phase voltage stabilizer supplier in Qatar. Our Voltage stabilizer designed to be a high correction range of 75V to 520VAC.  The fully automatic voltage stabilizer 100% compatibility with all three phase machines / devices. We offer two types of stabilizer Three Phase Servo Stabilizer and Three Phase Static Stabilizer. Our Stabilizers are designed and manufactured accordance with the European standard.
We supply following capacity ratings three phase voltage stabilizer
3KVA to 150KVA Voltage Stabilizer
3KVA Stabilizer, 6KVA Stabilizer, 10KVA Stabilizer, 15KVA Stabilizer, 25KVA Stabilizer, 30KVA Stabilizer, 45KVA Stabilizer, 60KVA Stabilizer, 75KVA Stabilizer, 100KVA Stabilizer, 120KVA Stabilizer, 150KVA Stabilizer
200KVA to 300KVA High Frequency Voltage Stabilizer
200KVA Stabilizer, 250KVA Stabilizer, 300KVA Stabilizer, 400KVA Stabilizer, 500KVA Stabilizer, 600KVA Stabilizer, 800KVA Stabilizer, 1000KVA Stabilizer, 1250KVA Stabilizer, 1500KVA Stabilizer, 2000KVA Stabilizer, 2500KVA Stabilizer and 3000KVA Stabilizer.
Our Stabilizer installed at several locations in Qatar. We offer 2 years warranty and 10 years spare sprats support for our stabilizer. Our Fully automatic AVR Protects overcurrent low and high voltage protection protects load by opening the circuit when over burden and short circuit occurs, Real static and servo structure thanks to provide a voltage supply which is much lower variation (± 1% of nominal value) than its guaranteed by the distribution system
The fully automatic Three phase AVR stabilization capacities are 220-230 240-380-400-415-440 VAC and its available indoor and outdoor with the ingress protection of IP20, IP21, IP54, Versions
The voltage stabilizer can operate with input and output voltages different from the nominal voltage of 415 in Qatar. It can be operated with 380/400/415 as per the machine / devices requirements. The voltage adjustments options are inbuilt with the stabilizer and the instructions are provided in the user manual. Most commonly the three phase stabilizers are used in almost all industries to protect the valuable machineries.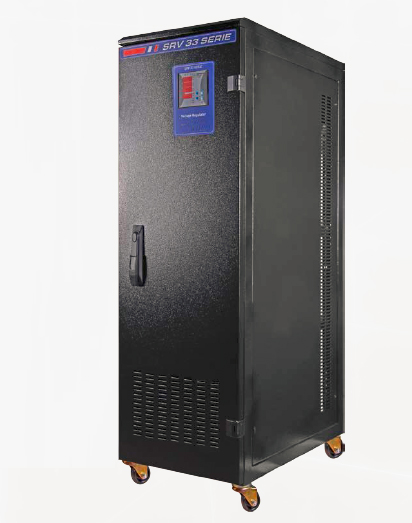 Click here to view the stabilizer home page.