Single Phase Stabilizer
Polar Series Voltage regulators are servo and static drive structure, microcontroller controlled heavy duty devices which regulates mains voltage for critical loads. Our Mono Phase Stabilizer maintains the following features
Standard Input Voltage Output Load Percentage
Fault Current Alert
Overload Alert and Temperature Alert,
Multi Display Modules
Compare
We are the Single Phase Manufacturer in Qatar, one of the leading single phase stabilizer in the GCC region. We supply Mono Phase Stabilizers of 1 KVA to 50KVA with non-linear charges drive 1 phase input 1 phase output wide power and voltage interval. Our single phase high frequency automatic voltage regulators are enabled with microprocessor and smart driver
Our Mon Phase Stabilizer Features
• Non-linear charges drive
• 1 phase input 1 phase output
• Wide power and voltage interval
• Fast Regulation
• High reliability thanks to Microprocessor and Smart Driver
• High efficiency
• Load transfer to Bypass via pole charge switch
• Safe and economic usage
• Overcurrent and overload protection (Optional)
• Digitally displayed status, input & output measurements
• 2 years warranty
• 10 years spare parts support.
Polar Series single phase stabilizers are produced with high frequency and high regulation advance technology protection system which provides safe and stable output voltage in highly sensitive devices where mains voltage is unstable. Our Mono Phase AVR provides high speed response against sudden voltage fluctuations. Our AVR can be operated smoothly even at full load and in cases where the voltage changes excessively. Our AVR does not require any special maintenance. The power factor of our voltage stabilizers are 0.8, 0.9, 1.0
We supply the following Mono Phase / Single Phase AVR's
1KVA Stabilizer
2KVA Stabilizer
3.5KVA Stabilizer
5KVA Stabilizer
7.5KVA Stabilizer
10KVA Stabilizer
15KAV Stabilizer
20KVA Stabilizer
25KVA Stabilizer
25KVA Stabilizer
30KVA Stabilizer
40KVA Stabilizer
50KVA Stabilizer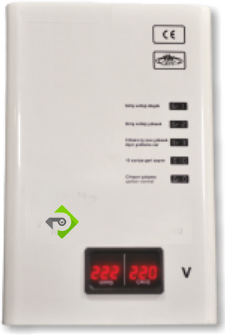 All our fully automatic servo and static Single Phase stabilizer / AVR Manufactured as per European Standard and Documented in Austria Standards. Our Stabilizer installed at many locations at Qatar. We provide 24/7 site support and emergency call attend.
Click here to view our Three Phase Stabilizer.
Click here to view our Uninterrupted Power Supplies