10KVA to 50KVA Three Phase UPS
We supply 10KVA Three Phase Input three phase output online double conversion UPS with 380/400 and 415V standalone UPS with following capacity 15KVA Three Phase UPS, 20KVA Three Phase UPS 25KVA Three Phase UPS, 30KVBA Three Phase UPS, 40 KVA three Phase 50KVA Three Phase UPS.
Compare
We provide three phase online double-conversion UPS 10KVA to 50KVA Three phase input three phase output as per QCS standard, The VFI (voltage frequency independent) enabled UPS provides enhanced power protection in a compact format. Its outstanding price / performance delivers the best value for money in its category with uncompromised system reliability and power availability.
We supply the following Capacity Ratings of 10KVA to 50KVA Three Phase UPS
10KVA / 10KW Three Phase UPS
15KVA / 15KW Three Phase UPS
20KVA / 20KW Three Phase UPS
25KVA / 25KW Three Phase UPS
30KVA / 30KW Three Phase UPS
40KVA / 40KW Three Phase UPS
50KVA / 50KW Three Phase UPS
Standard configuration
• Online double conversion UPS
• Capacities from 10 kVA to 50 kVA in three different cabinet sizes
• Input, bypass and battery protection fuses
• Manual bypass switch
• Up to 95.5% efficiency across a wide load range
• Single- and dual-input feed available
• Integrated back-feed protection
• Communication interfaces: RS-232 and USB ports, input dry contacts (EPO, GEN On, …)
• With or without internal batteries
• Parallel ready (up to 20 units)
• Relay card with USB and output potential free contacts
Options
• Battery temperature sensor
• External battery cabinets for extended runtime
• ModBus RS-485, ModBus TCP/IP, SNMP
High reliability
• Online double conversion technology
• Parallelable systems for increased redundancy
Low cost of ownership
• Scalable power and autonomy time
• Small footprint / high power density
• High efficiency at partial and rated loads (up to 95.5%)
• Reduced installation costs
• Ripple-free and temperature controlled battery chargers extend battery life time performance
• Low input harmonic distortion (THDi <3%)
Flexible design
• Available in seven power ratings and three cabinet sizes
• Parallel capacity up to 20 units
• External battery cabinets for extended autonomy
Efficient service concept
• Manually operated maintenance bypass switch
• User-friendly LCD
• Ergonomic design for easy serviceability
• Remote monitoring and connectivity options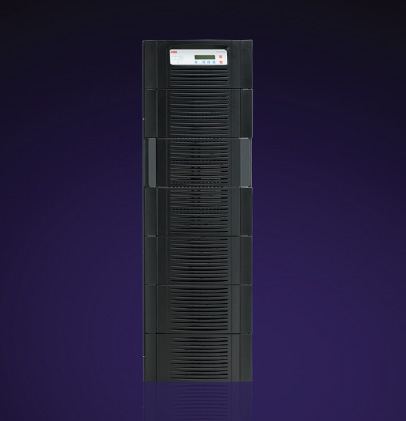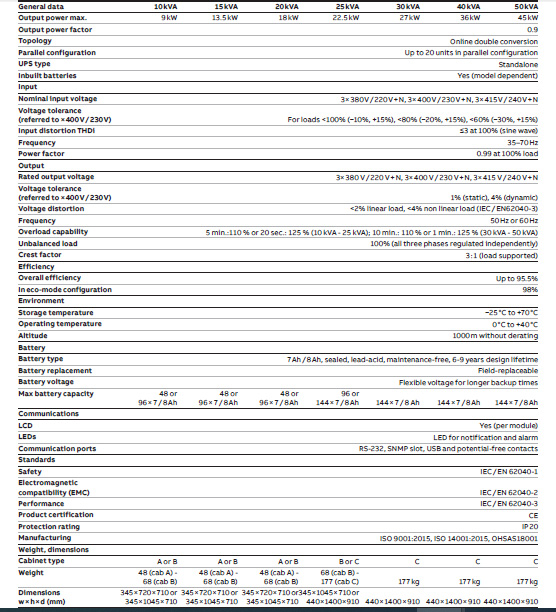 Click here to view Single Phase UPS.