We are the leading Step down transformer supplier in Qatar, the step down transformers intended to reduce the electrical voltage. Its steps down the voltage applied to it. A step-down transformer is needed to use a 110v product in a country with a 220v supply. The electrical transformer is made from two or more coils of insulated wire wound around a core made of iron. When voltage is applied to one coil (frequently called the primary or input) it magnetizes the iron core, which induces a voltage in the other coil, (frequently called the secondary or output). The turns ratio of the two sets of windings determines the amount of voltage transformation.
A step down transformer can be considered voltage ratio device or voltage regulators. A practical application of this 2 to 1 turns ratio would be a 480 to 240 voltage step down 415 to 220 Voltage 400 to 200 Voltage 415 to 200V. The ratio between input and output voltage will stay constant. Transformers should not be operated at voltages higher than the nameplate rating, but may be operated at lower voltages than rated. Because of this it is possible to do some non-standard applications using standard transformers.
Most of the United States and Japan machineries and electrical equipment's imported in Qatar requires 110V, 200V, 220V Three Phase step down transformer qatar
Product Datasheet
1
Model
PSTS-25KVA
2
Rated capacity
10KVA, 12KVA 15KVA, 20KVA, 25KVA, 50KVA, 100KVA etc…
3
Input
Phase
three phase 3P+N+G
Voltage
415V
Frequency
50/60HZ
4
Output
Phase
three phase 3P+N+G
Voltage
200V, 220V…
Frequency
50/60HZ
5
Output Current
Rated current 72A Long term load current 57A
6
Material
Aluminum wire or copper wire
7
Core material
Treasure iron 470
8
Load capacity
0.8
9
efficiency
≥97.5%
10
 no-load loss
≤75W
11
 no-load current
≤2A
12
 load loss
≤320W
13
Voltage accuracy
≤2%
14
dielectric strength
3000V 15 mA 60S
15
insulation resistance
Apply dc 500V≥100 megohm
16
insulation grade
F
17
type of cooling
Natural cooling (plus air cooling)
18
Transformer connection mode
Y
19
 impedance voltage
≤4%
20
The noise sound
≤60db(at 1 m)
21
Temperature rise
≤100K(AF)
22
Dimensions mm and weight
480x330x500mm,Weight : 85KG (aluminum) 103KG (copper)
23
panel display
Output voltage, working indicator light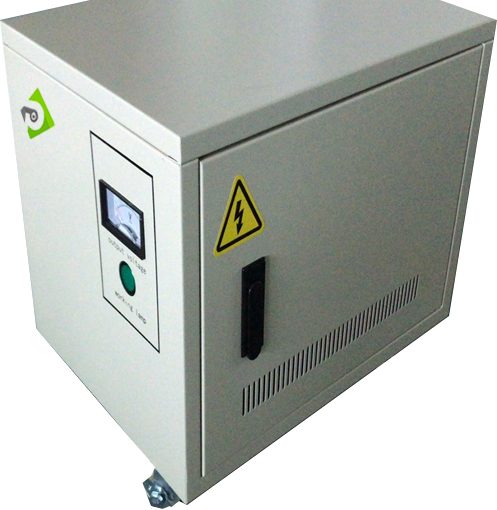 View Our UPS System.
View our Stabilizer System