20kVA UPS
20kVA UPS Economical, 3-phase 20 kva UPS system protects connected mission-critical equipment against damage, downtime and data loss due to blackouts, brownouts, power surges and line noise.
The SVT20KX SmartOnline® SVTX Series 3-Phase 380/400/415V 20kVA 18kW On-Line Double-Conversion UPS with IGBT technology provides battery backup and AC power protection against power disturbances that can damage electronics or destroy data. It's recommended for critical IT or corporate infrastructure, telecom, LAN/WAN, security and emergency, financial and light industrial applications.
The SVT20KX's Voltage and Frequency Independent (VFI) design allows continuous operation at any supported voltage at either 50 or 60 Hz. Zero transfer time to battery mode ensures no disruption to the attached loads. Automatic and Manual Bypass keeps connected equipment powered even during overloads and UPS maintenance.
IGBT inverter technology produces output power with less than 2% total harmonic distortion (THD) to keep connected equipment functioning at its peak. A 3:1 crest factor safely supports a variety of loads, even those with wildly fluctuating power demands.
Managing the SVT20KX is simplified through the interactive front-panel LCD interface, which displays critical operating conditions and diagnostic data, such as load levels, available runtime, alarm status, battery charge, and voltage and frequency values. Four LEDs indicate bypass, line, battery and fault modes. A serial port allows connection to Tripp Lite's free local shutdown agent. A built-in card slot supports WEBCARDLX or RELAYCARDSV for network interface and remote monitoring and control. The SVT20KX's reduced size and small footprint save valuable space. Click here for manufacturer product page
On-line double-conversion topology, VFI operation
Automatic and Manual Bypass for enhanced reliability
Optional ECO mode for high-efficiency operation
Internal batteries and expandable runtime options
Paralleling for capacity up to 3 units
2-year limited warranty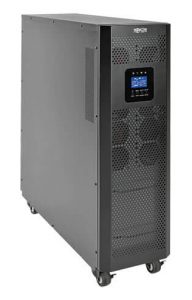 Need Quotation for Projects / Large Supply? – Just email the requirements or Click here to fill