1kva ups
SmartOnline 208/230V 1kVA 900W Double-Conversion UPS, 2U, Extended Run, SNMP Card Option, LCD, USB, DB9, ENERGY STAR
Tripp-Lite Smart Online 1kVA UPS Double Conversion UPS provides battery backup and AC power protection against blackouts, brownouts, power surges and line noise that can damage electronics or destroy data. It continuously regulates AC output within 2% of the selected nominal output voltage with zero transfer time from online to battery mode
Protects connected mission-critical equipment against damage, downtime and data loss due to blackouts, brownouts, power surges and line noise. Ideal solution for critical voice, data, medical and industrial IT applications
Operating with a high 93% line mode efficiency, the ENERGY STAR-certified SUINT1000LCD2U saves you money by meeting strict EPA guidelines. Featuring six C13 outlets (four of them in two switchable two-outlet load banks) and a C14 input, the SUINT1000LCD2U has an internal battery that provides 12.3 minutes of support at half load and 4.7 minutes at full load. Adding external battery packs, such as BP24V36-2US (sold separately), provides extended runtime.
Managing the SUINT1000LCD2U is simplified through the interactive front-panel LCD interface, which displays operating conditions and diagnostic data, such as load and battery levels. You can set power strategies to reflect your protection priorities, whether it's precise power quality for sensitive systems or the highest possible electrical efficiency.
EMI/RFI noise filtering improves your equipment's performance and prevents damage. A 627-joule surge suppression rating protects your equipment from harmful power surges. Adding an optional Tripp Lite network management card, such as WEBCARDLX and SNMPWEBCARD, permits remote management of the UPS, including reboots and activity logs.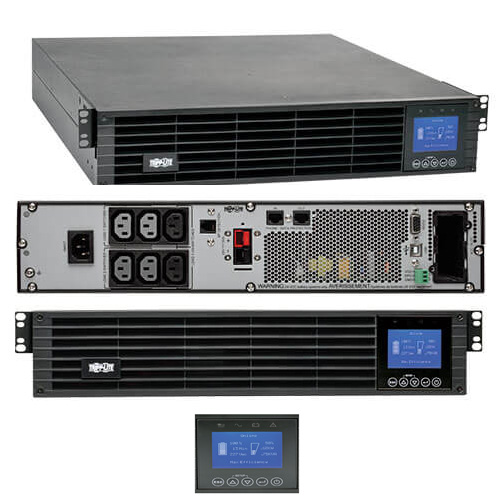 Stock Location: Doha
Çall: +974 – 77295040
Email: sales@polarqatar.com
Need Quotation for Projects /Large Supply? – Just email us your requirements or fill the form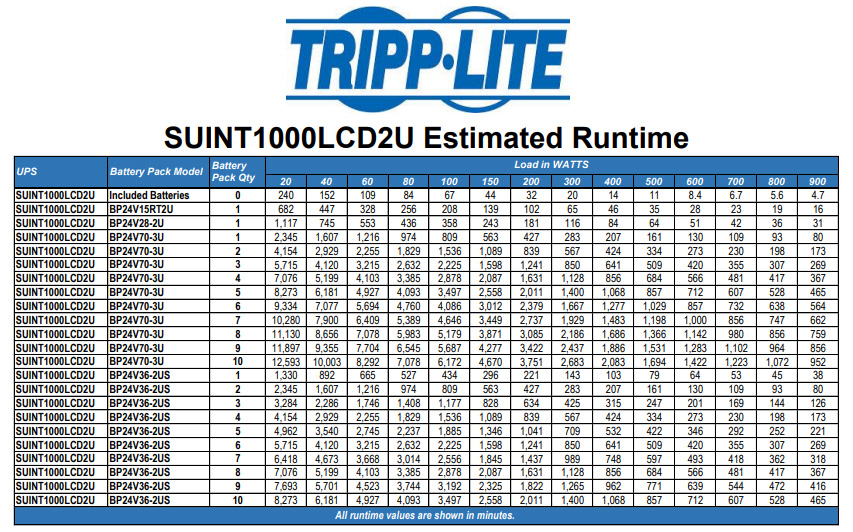 1 kVA UPS SUINT1000LCD2U Runtime Chart
Protects Mission-Critical Rack-Mounted Equipment
Reliable Battery Backup with Expandable Runtime
Interactive Front-Panel LCD
5 Power Strategies
Highly Customizable
ENERGY STAR Certification
Optional Network Management Cards
Communications Ports